69th Annual Nisei Week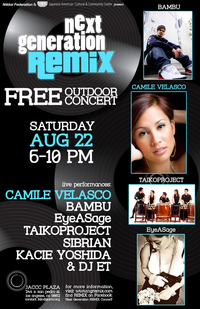 Nisei week is upon us—I'll be hanging out at the JACCC plaza this weekend, for the Next Generation REMIX concert and the Taiko Gathering. Last year was a blast, I can't wait to see what they've got in store this year.
Sadly it seems NSU Modern won't be returning this year, but the REMIX concert will still feature some other great artists -- Camile Velasco, Bambu, EyeASage, TAIKOPROJECT, Sibrian, Kacie Yoshida, and DJ ET. Last year the more mature performances were reserved for later in the evening; assuming they do the same thing this year, it should be pretty kid safe.
The REMIX concert starts at 6pm on Saturday the 22nd, and the Taiko Gathering starts at 11:30am on Sunday the 23rd. Grab some karepan and mochi, and enjoy :)
Related Posts