Live Action Avatar pics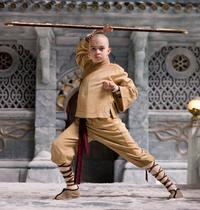 I love Avatar: The Last Airbender—such a fantastic cartoon. USA Today posted some shots of M. Night Shyamalan's live action adaptation The Last Airbender. I've never seen a kids movie from Shyamalan, so I'm not sure if that is good or bad for this. His past work has been fairly hit or miss with me. But I have hope, and apparently Nickelodeon does too -- they already signed him on to write and direct a full trilogy.
Noah Ringer, who plays Aang, actually holds a black belt in taekwondo. Dev Patel of Slumdog Millionaire fame will play Prince Zuko, and he also has a black belt in taekwondo. I'm interested to see how Shyamalan puts that to good use. This first movie will only be book one, so unfortunately Toph won't be around.
Related Posts