Blankets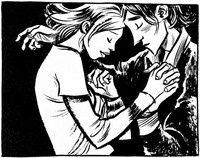 A few days ago I did something I haven't done in over 10 years: picked up some comics and a graphic novel.
Today I finished the graphic novel Blankets by Craig Thompson, an autobiography of the author's life from childhood on through high school and a little bit of adulthood. It tells parallel stories of brotherhood and first love.
It was a joy to read, filled with beautiful artwork and an enthralling story. Every page evocative of what it's like growing up, of that overwhelming feeling of falling in love for the first time. This is a great book for anyone -- even if you don't like comics, I implore you to pick this up.
This is actually the first graphic novel I've read. Despite having the capacity to read more than your run-of-the-mill X-Men or Fantastic Four comics as a preteen (I distinctly remember reading my first Stephen King novel It and getting my feet wet programming HyperCard around that time), I can't recall ever reading a graphic novel or even being aware of their existence. I rarely went to comic book stores for more than Magic cards, instead choosing to borrow them from a friend's vast collection.
After a couple years of watching The Totally Rad Show, it finally sunk in to me to go grab some comics. I chose Blankets specifically because of the TRS guys raving about it. Thanks guys!
I remembered a girl I befriended when I was a child, who was living with her dad down the street from my house over summer break. Hardly a footnote in my life's story, I never saw her after that one summer. Funny, the memories this book brought forward.
Related Posts