SameGame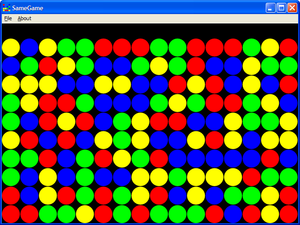 An addictive puzzle game where you try to match groups of colors. The more balls you match at once, the higher your score gets.
Download SameGame 1.0
Click here to download SameGame for Windows 7, Vista, XP, and 2000.
Contributing
SameGame will always be free, but donations are still appreciated and will help me figure out what to spend my time on. Any small amount helps!
If you're a programmer and would like to contribute a patch, please email me.
Open Source
SameGame is Open Source and distributed under a BSD license. The source code can be viewed online or downloaded through Subversion:
svn co https://svn.int64.org/svnroot/int64/samegame samegame
SameGame also uses Anti-grain Geometry, another great piece of Open Source software.